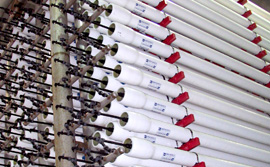 G.A.L. Water Technologies Ltd.
Years of Experience in Implementing Projects
The Company advises, prepares and also implements all stages of the project from the characterization and planning, up to establishment, installation and operation of the water treatment systems. The company has accumulated a great deal of experience over many years of implementingnumerous projects, both Turnkey and BOT. The company places emphasis on adherence to schedules, total compliance with specifications and project goals, and achievement of customer satisfaction.   G.A.L. Water Technologies Ltd offers its clients the possibility to choose between a number of alternatives of extent of service.
The water treatment solutions provided by G.A.L. Water Technologies Ltd. transcend to a higher quality suitable for home use.

Often times there is degradation in the quality of water sources, as a result of salination of well water, fertilizer contamination in agricultural areas, and additional contaminations.
At G.A.L. Water Technologies Ltd., we implement water treatment systems that produce an opportune water-quality for agriculture purposes.

Development of the agricultural farm on the one hand and the shortage of water on the other hand, dictate substantial changes in water allocations.